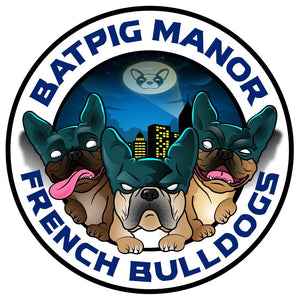 WARNING: READ THIS ENTIRE MESSAGE BEFORE PROCEEDING!

You are purchasing a position on the BatPig Manor French Bulldogs Waiting List! (Either our French Bulldog list, or our English Bulldog list) A spot on our list gives you the right to reserve any pup we release from our future litters in the order you appear on our list. In order to obtain a place on our list you must first receive application approval. If approved you will then be invited to purchase this reservation deposit item! Don't have an approved application on file with us yet? Apply here!

Deposit fees are non-refundable, be sure you're 100% certain you're prepared for a new BatPig in your life as we make absolutely no exceptions to this policy! Deposits are used to fund the pairings we plan for our waiting list members. These funds are exhausted paying stud fees, progesterone testing, ultrasounds, x-rays, and many other costly expenses involved in creating and rearing BatPig babies. If you change your mind, no longer feel like waiting, or something prevents you from following through with this commitment these fees cannot be recovered so you will forfeit your reservation deposit fee and place on our list. Again, deposit fees are NON-REFUNDABLE. Talk to family members, spouses, landlords... whoever you need to. Make sure you're ready and prepared before making this commitment! It can't be undone! 
Once this fee has been made your position on our waiting list will be updated within 24 hours, unless you wish to remain anonymous. If your BatPig is a "surprise" and you do not want your name displayed on our list be sure to contact us prior to or immediately after making your payment. You can also mention it in the space provided for comments when checking out here online. 
If this deposit fee item is available to purchase it means there is an open spot on our waiting list! If that's the case, don't delay! Only so many BatPig's are produced each year and spots on our waiting list are very limited! Not only does a secured reservation guarantee you the pick of our litters come your turn, but it shows us you're serious about opening your hearts and homes to one of our precious BatPig pups! If unable or unwilling to wait and you're looking for a pup "right now" we're probably not the breeder for you. We prefer to place our pups into the homes of those who have followed along with us throughout the entire process... this coupled with increased demand for our pups means they rarely make it past the people on our list and\or become available to the public.  

This is a digital deposit fee, no physical item will ship. 
If you fully understand this process and have an approved application on file with us you may now add this item to your cart and proceed to check-out!

This deposit fee will be deducted from the final price of your new BatPig when payment becomes due. Any outstanding balances are due in full no less than one week prior to pick-up.
Thank you for choosing BatPig Manor French Bulldogs! 

CLICK HERE TO VIEW OUR CURRENT WAITING LIST
Be sure to look closely at our list before deciding to join. Sometimes it may look full but if you look closer many of the people there are intentionally waiting\passing because they are not ready yet, or they're holding out for something very particular. Simply put, a spot at the bottom of our list does not always mean you have to wait a long time! In fact, it's not unusual to see about 8-10 people "camping" on our list passing for months, sometimes years before they select a pup! In those cases spot number 11 or 12 might as well be spot number 1 or 2! If you'd like to know more about the current state of our list and those on it before making your decision don't hesitate to ask and we can give you an "estimated" time before you're able to take part in puppy selections! 
WARNING: If you have not received application approval and purchase this deposit fee item anyway your order will be canceled, refunded, and you will lose the ability to obtain a future spot on our list! Not sure if you have an approved application on file with us? Contact us before going any further!